Beaba Baby Portion 120ml Tritan
As low as
SGD 8.96
Regular Price
SGD 9.95
-10%
Product Description
Beaba Baby Portion Food Jar are perfect for storing, heating and freezing homemade baby food.
Place them directly into Beaba Babycook's bowl for fast and easy defrosting or reheating with steam.
Airtight and leak-proof lids ensure food stays fresh.
Easy space-saving stackable sizes nest together perfectly in your cabinet.
Premium quality: does not discolour or lose its shape
Stackable: saves space
Airtight seal: preserving flavours and smells
Graduated in ml: dosage scale
Wash by hand or dishwasher
Product Description
Beaba Baby Portion Food Jar are perfect for storing, heating and freezing homemade baby food. Place them directly into Beaba Babycook's bowl for fast and easy defrosting or reheating with steam. Airtight and leak-proof lids ensure food stays fresh. Easy space-saving stackable sizes nest together perfectly in your cabinet.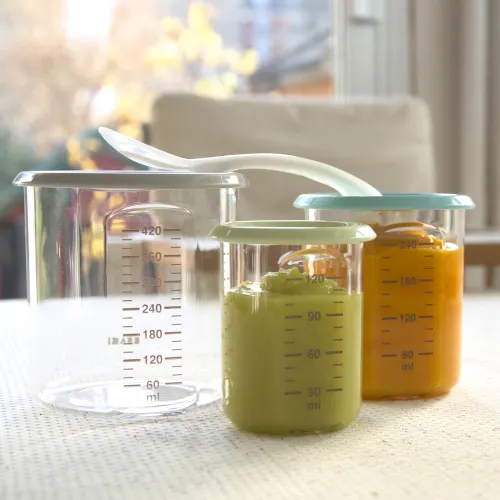 Features & Benefits :
premium quality: does not discolour or lose its shape
stackable: saves space
airtight seal: preserving flavours and smells
graduated in ml: dosage scale
Whats in the box : - 1x beaba baby portion tritan 120ml
Care instructions - wash by hand or dishwasher
You can not add the review on this product as you have not purchased this product yet.