Euky Bear Sniffly Nose Room Spray + (Freshen Room + Kills Germs)
Special Price
SGD 13.44
Regular Price
SGD 16.80
Product Description
- Anti-bacterial room spray - Helps the whole family breathe easier, in winter and beyond - With natural essential oils of Eucalyptus, Menthol, Rosemary & Oil of Wintergreen - Creates instant aromatherapy vapours that comfort and soothe - Use in children's rooms before sleep – great for day naps too - Freshens, removes odours, kills germs & keeps surfaces hygienic - Suitable for all ages - No harsh chemicals or artificial fragrances - Australian made & owned - Recommended for 0+ months.
Product Description
Euky Bear Sniffly Nose Spray 125g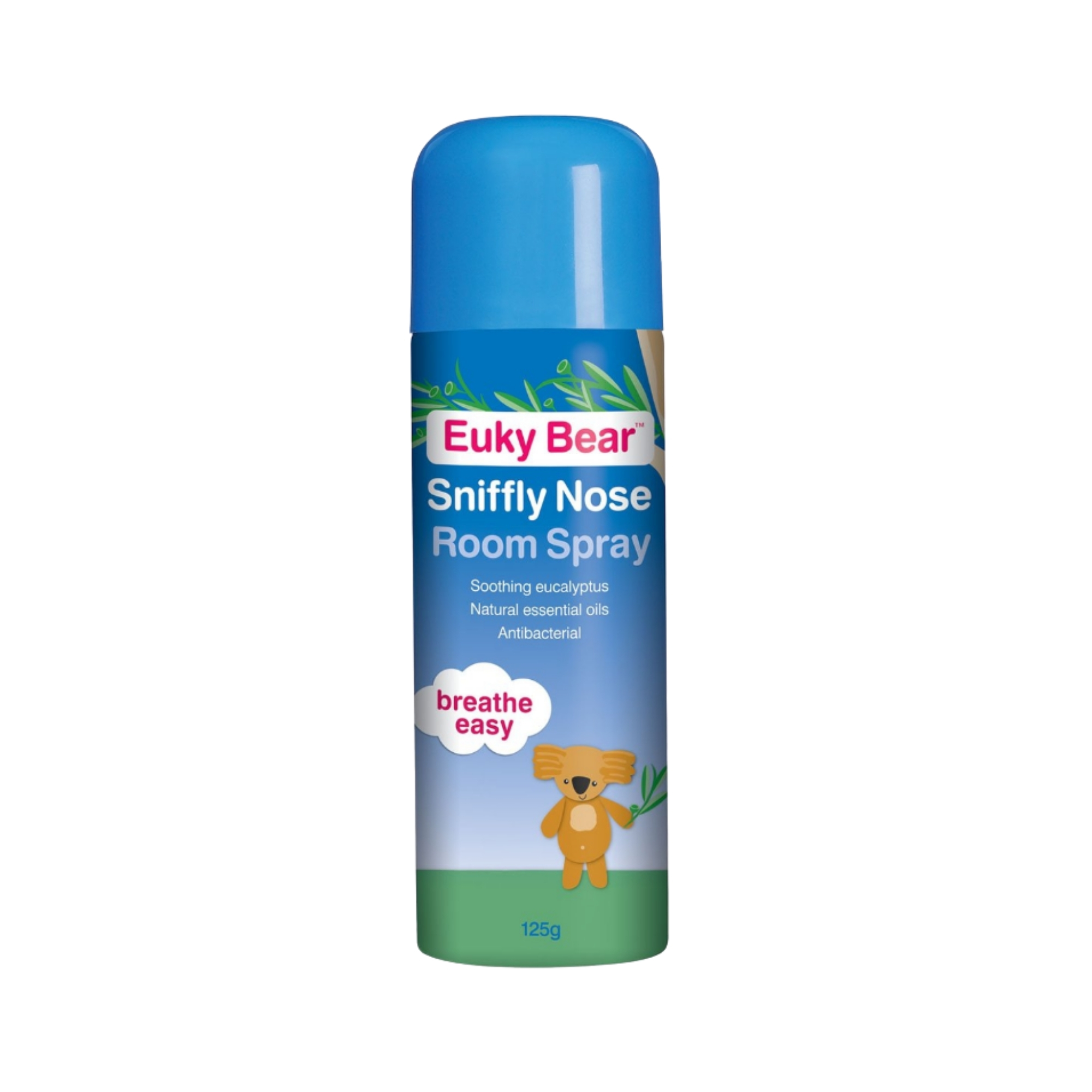 Personal Uses:
Room Spray
Winter sniffles can make it difficult for the family to get the rest they need. Euky Bear Sniffly Nose Room Spray helps comfort and soothe before bedtime (or anytime!) providing instant aromatherapy with antibacterial oils Eucalyptus, Menthol, Rosemary and Oil of Wintergreen.
Simply spray around baby's nursery, children's bedrooms or adult bedrooms before sleep – it's also great for day naps, or even while travelling.
Spray around the room for approx. 3-5 seconds. Allow the product to settle before placing child to sleep in the room.
Note: Can be used in conjunction with Euky Bearub and/or the Euky Bear Steam Vaporiser and Inhalant for all-night relief.
Household Uses:
Kill germs & bacteria
Spray onto surfaces including door handles, change tables, rubbish, nappy bins and toys to kill germs and bacteria.
Hold can 15-20cm from surface and spray until covered in mist. Test an inconspicuous area first before use.
Deodorise
Use as a natural room deodoriser to remove odours. With no harsh chemicals, it's a perfect alternative to artificial fragrances.
Freshen mattresses
Freshen mattresses when changing the sheets on cots, children's or adult's beds.
Hold can 15-20cm from mattress and spray thoroughly. Allow to dry for a few minutes.

Ingredients:
Eucalyptus Oil
Menthol
Rosemary Oil
Oil of Wintergreen
You can not add the review on this product as you have not purchased this product yet.